30'Heat seal air arch
If you want to pursue higher goals in advertising and event marketing, inflatable arches are sure to set you apart from the competition.These eye-catching inflatable arches are not to be missed, whether it's hosting an event or drawing attention to your location.With plenty of options for customization and cost-cutting, you can make an impression without increasing your budget.Where else can you get a large income?
Inflatable-ads Inflatable arches provide an excellent entrance to your event or exhibition booth or the front of the stage, as well as a traditional starting and finishing line.Our friendly and helpful team will provide you with a variety of sizes and styles to choose from, we can tell you exactly what you want and provide you with the best choice.Lighting can also be added to your inflatable device.This is an ideal solution for evening or indoor activities.
Characteristics:
High quality inflatable arch, made of high quality PVC PVC coated material, anti-wrinkle and waterproof, super tear strength.Above the thickness of 0.6mm, we will be able to achieve thermal sealing qigong energy, without the need for continuous inflation of the blower.No noise.If handled with care, they can be reused for years!
Of course, you can also use 210D/420D nylon coated fabric to achieve your economy.
You can customize your arch color and brand information as well as various sizes and tube thicknesses.You can also attach a sticky strap to the inflatable arch, allowing you to change the logo and other information multiple times.
According to different materials, your logo and information we use screen printing, digital printing, thermal sublimation process.
The inflatable arch includes an electric blower to provide continuous running air.
Select Inflatable-ads advantages:

The metal D ring used for fixing the arch is made of 316 stainless steel

The reinforcement of multi-layer PVC material is pressed by large high-frequency machine to make it completely adhere together.

Air/exhaust nozzle, excellent airtight performance.

Screen printing technology is adopted, so that your logo and warning information will not fade or change color.The pattern has neat edges.

Print your logo and message at the top of the 20-foot inflatable arch so people can see her from a distance. That's your charm.

We have prepared D rings for each corner and the front and back of the sole of the foot, so that you can fix them according to the actual situation.

Adopt environmentally-friendly poly vinyl material with a thickness of 0.6mm or more.

Use a hot air fan to weld the joints.

Internal and external lamination of pure PVC in the middle of the joint, to achieve the first time to prevent air leakage through the fiber.

The PVC material with a width of 1 "inside and outside shall be fitted again to achieve the effect of holding the air for the second time, while increasing the tearing strength of the joints.
| | |
| --- | --- |
| size | Can be customized |
| material | 0.6mm/0.9mmpvc material |
| color | Red, yellow, green, blue, white, various pantone colors |
| OEM OEM | The available |
| Minimum quantity | 1PC |
| blower | CE / UL |
| accessories | Blower, rope, sandbag, carrier bag |
| The cradle | Guangzhou, China (mainland) |
| Delivery time | 3-12 days |
| The time of delivery | 5-12 days or according to the quality of your order |
| packaging | In bags and in cartons |
| The mode of transportation | Sea, air or express |
| payment | Telegraphic transfer, western union, alipay, WeChat, cash, etc |
| Characteristics of the | 1. Thin, high transmittance and high intensity.2. Flame retardant and waterproof fabrics.3. Logo or graphics can be printed. |
| Advanced splicing technology | New sewing techniques were used to make pinholes very small to prevent air loss |
| production | 1. You tell us your requirements and we will give you a simple design manuscript.2.You pay 50% of the total price as deposit.3. We will give you the detailed design and start production after confirming all the contents.4. I will send you a package of photos that you can change according to your reasonable needs.5. After confirmation, you pay the balance and we deliver it. |
| The power supply voltage | According to the client's country/region |
| Plug type | According to the client's country/region |
CE/UL approved blower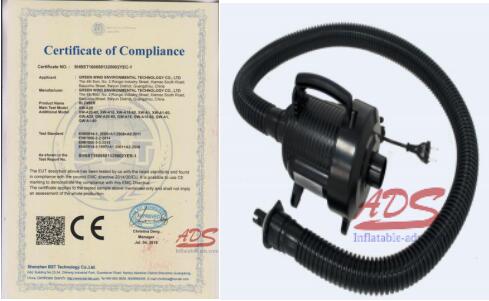 Packing / transportation
It is strong enough for long-distance transportation.
The inside of the blower is equipped with a foam board, and the carton is located outside.
The whole interior is equipped with an Oxford cloth bag, and the exterior is provided with a paper box package.